Visualization Software & Technology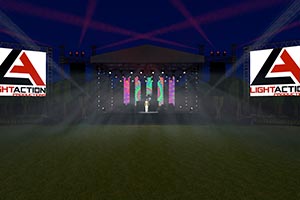 Light Action's design team can transform your concepts and ideas into reality using the latest visualization software and technology. We provide line drawings, 2D CAD drawings and 3D renderings to offer the most accurate depiction of your event or structure. Our practiced team can take your vision from paper, to in-house or on-site mockups and then into reality.
Our designers are available to participate in site surveys to gather information, photos, documentation, and measurements to help bring your vision to life. We have an onsite Previz Studio available for programming of MA lighting consoles. Our studio also has large format printing and plotting capabilities.